Today is possible, simple and secure
The fly in paraglider tandem, permit you to explore another dimension. Everyone may to try emotion of the flying, in the company of the enabled pilot istructor, is not request nothing capacity or qualities of courage, when you practise the paraglider in the right conditions, is not absolute an extreme sport, not 'definitely an extreme sport but an activity' sport that offers unique sensations to those who practice in safety. Trust in full the experience of the pilot who will accompany you and let you take the charming passion for flying ...
The take-off is the most exciting moment...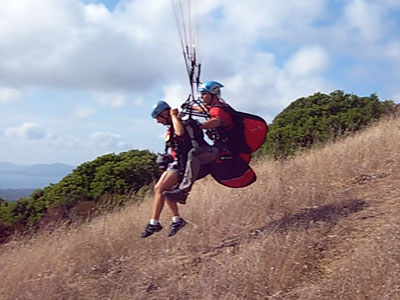 It abandons the weight of the force of gravity, we finally leaves the floor to enjoy unforgettable moments and breathtaking views to capture with your camera. Finally in flight: now is the time to enjoy the view normally reserved for the birds or the lucky few.
A wonderful experience that will take you 'to touch the sky and see a view which is normally' reserved for the birds. It will be an unforgettable experience that you will want to repeat soon and then do not hesitate to take off again, we are waiting with open wings.
Come with your friends in the group have fun and spend most of the "fears"